New Year's Resolution: You Can Do It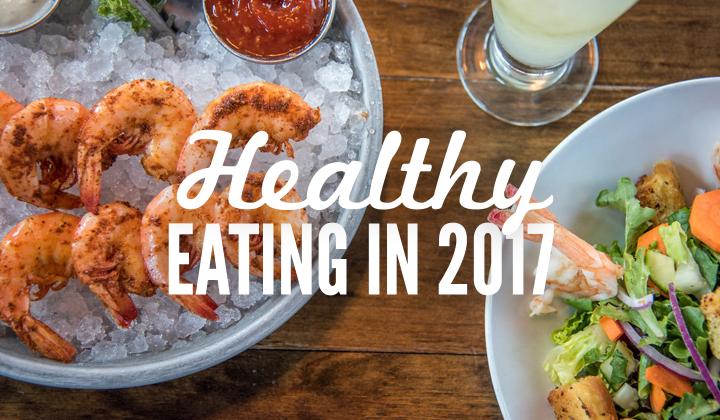 2017 is well underway, and If you're like a majority of Americans, you've already strayed from the promises you made to yourself.
According to Quanti, a company that evaluates internet data, getting healthy was the most searched New Year's resolution throughout 2016.
If maintaining a healthy lifestyle is at the top of your list this year, here are some healthy, resolution-friendly menu suggestions to keep you on track when you dine at Flagship Restaurant Group concepts. When considering our healthiest menu options, we kept in mind the following checklist: clean eats with low calories, healthy fats, high protein and fresh ingredients.
Healthy Options
Guacamole
Tortilla Soup
Ensalada Roja
Tacos (choose corn tortillas and back beans, no cheese and rice)
Fajitas (no cheese and sour cream)
Ordering tips
Avoid these menu sections: Stuffed Tortillas, Enchiladas, Combo Platters
If ordering a salad, we suggest Cilantro Lime Vinaigrette, Chile Balsamic Vinaigrette or Jalapeño Light Ranch
Healthy Options
Sashimi: shed the rice and go for pure cuts of fish for all the protein and none of the carbs or sugar. Any sashimi or specialty sashimi selection wins.
Maki: Avocado, Kappa, Sake, Tekka, Negi Hama, Pretty In Pink, Alaska Roll and Roja Roll, The Beach, Spicy Gringo, Rainbow Roll
Tuna Tower (with brown rice)
Squid Salad
Seaweed Salad
Edamame
Edamame Hummus (no crostini)
Miso Soup
Ceviche (no wonton crisps)
Chicken or Veggie Lettuce Wraps
Grilled Chicken Skewers
Anthosan's Chicken (light sauce)
Ordering tips
Substitute avocado for cream cheese for a small upcharge
Those eel sauce rolls you love? Eat sparingly.
Avoid anything tempura-fried
Request light rice or sub brown rice for white on your nigiri and maki
Healthy Options
Vegan Currywurst
Root Burger
Salads: any salad with Indian-Spiced Grilled Chicken
Coming in 2017: Beet Hummus
Ordering tips
If ordering a salad, ask for Sherry Dijon Vinaigrette
Our portions are generous. Consider sharing your meal with a dining partner, or plan to enjoy leftovers at home
When your meal comes with a side, choose Pickled Veggie Slaw or Veggie Crudité
If alcohol is on your resolution plan, stick to light beers with low alcohol by volume (ABV)
Healthy Options
Fresh Oysters on the Half Shell
Peel 'N' Eat Shrimp
Fire Grilled Artichoke (no aioli)
Simple Fish: grilled or blackened, both work!
Smokehouse Chicken
Greens: any sala
Ordering tips
If ordering a salad, we suggest grilled lemons to sqeeze on your salad as a dressing
Tread lightly when you see these descriptors: crusted, fried, creamy, crispy
Healthy Options
Clever Greens You're totally safe here!
Blatt Beer & Table See above.
Amsterdam Falafel & Kabob Choose the Salad or Plate style
Juan Taco Order tacos! Maybe not the Fish Tacos.
Yoshi-Ya Ramen Add an Ajitama Egg or extra Chasu for a protein boost
Yum Roll Order a Yum-Yum Bowl with brown rice or no rice at all
Weirdough Pizza Co. Our house salad is delicious and generous